Yes, there were many things I thought I might do in lockdown – blitz my cupboards, Sort Out My Accounts, get back on the C25K horse of misery – and, no, I didn't do any of them. The most useful thing I've accomplished since March is successfully threading my own chin. (You need this beauty tool called the Tweezy; I mean, it's not even a gadget, it's basically a double-handled spring that traps the hairs like a threading thread, and once you get past the initial YIKES THIS IS AGONY sensation as they're ripped out of your face, it's quite therapeutic. Plus, if you're like me, it soon becomes the one thing standing between you and a full Santa Claus.)
Some things I have managed to achieve, though, are:
* I'm on a 65 day Gaelic streak on Duolingo ("Seall! Chan eil briogais ort, Domnhall!" – a useful phrase for you there if you know someone called Donald.)
* I've dutifully carried on doing my gym's recorded-before-lockdown Youtube Zumba class to the point where I know exactly when Laura the instructor will hitch up her leggings, and again when someone's mobile phone will ring, and we all tell her to take the call in case it's someone from the future telling her not to waste time stocking up on loo roll, and get plain flour instead.
* and I have got back to my knitting.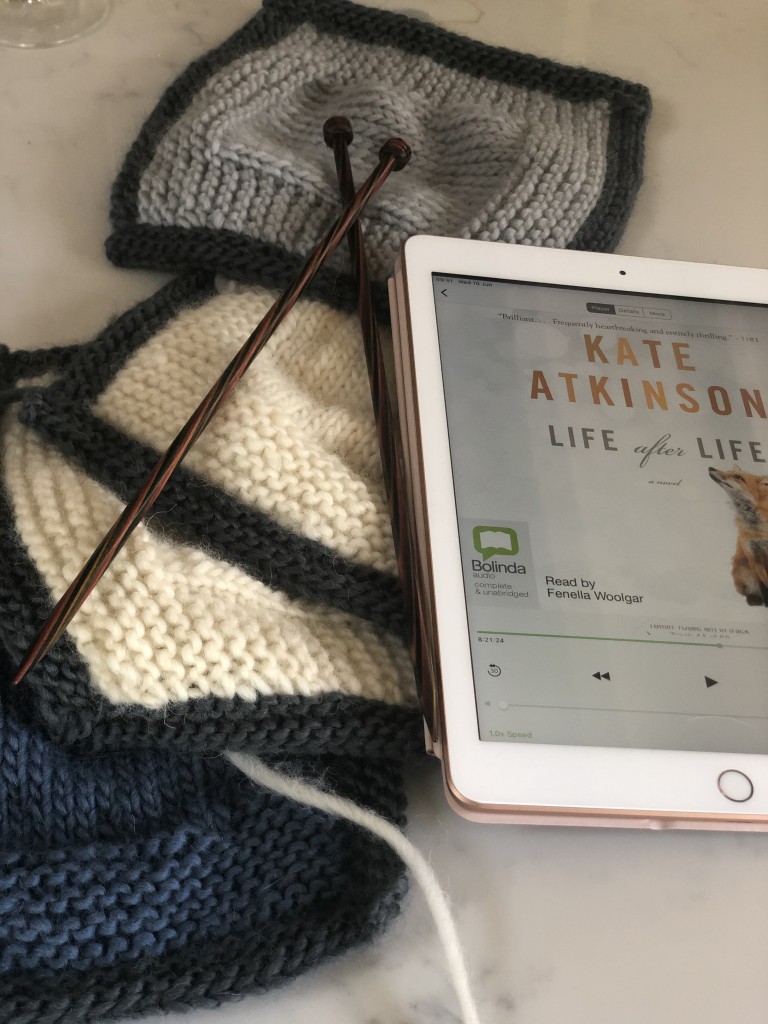 At the beginning of lockdown I felt a very WI-ish urge to pick up my knitting needles again. I was partly inspired by a writer friend, Penny Parkes, whose exquisite knitted creations on Instagram are faaaaaar beyond what I could make myself, but the way she writes about the calming, centring effect of clearing your mind to knit really struck a chord. I was also encouraged by the impressive pile of bespoke jumpers effortlessly knocked out by my other knitting inspiration, Chris Manby. I love a jumper.
Being a beginner with – crucially – no one to help me if I went wrong, I needed something easy, so I searched online for a pattern to make the last thing I knitted with my mum: a blanket of squares. I found, rather serendipitously, this West Yorkshire Spinners Emeline Blanket: a knitalong project designed in association with Mind to help people find calm headspace during these strange times. I couldn't do all the patterns, but I learned what techniques I didn't already know from Youtube (thank you, internet, the world's surrogate knitting grandmother). And with a bit of patient explanation from Penny, I've now got a pile of squares to stitch together into one big Coronablanket. I hope it'll become a funny old family heirloom to remind us of the four months we all spent at home, failing to tidy our cupboards.
I also rediscovered another of life's small, lost pleasures: being read to. Stupidly I didn't realise you can borrow audiobooks from libraries until lockdown – download the BorrowBox app asap, I urge you! The first book I 'took out' was Kate Atkinson's Transcription, which I read in proof, greedily, as soon as I could lay my hands on it back in 2018. It's a wonderful novel but – I can admit this now – at the time, I got rather confused between a couple of the male characters and was a bit '…er, what?' about the ending. THIS TIME, listening to Fenella Woolgar telling me the story, subtly shifting accents and delivery for each character, all at an unhurried, thoughtful pace – the plot opened up like a flower in the sunshine. I'm now listening to Life After Life, one of my favourite stories of all time, and it is a real treat to sit, and knit, and listen, and think, and savour the richness of the writing like a fruit cake, while feeling the Yorkshire yarn slip through my fingers, turning into a soft blanket on my needles.
I've also rediscovered the joys of tuning into the radio for the Book at Bedtime on Radio 4, and their other serialisations. At the moment I'm listening to Girl, Woman, Other by Bernardine Evaristo, my book group's chosen title this month. It's a brilliant, powerful story of twelve women and their interconnected lives – one of those books with voices that worm into your head, and that you never want to put down. The radio serialisation is abridged quite heavily, for time reasons (which is interesting in itself: what are the key lines in a chapter? How do you keep the story and flavour?) Pippa Bennett-Warner's skilful reading adds another dimension to their interwoven stories for me – it's a collection of different voices, all women of colour, and she brings each one distinctively alive so much better than my mental narrator. Strongly recommended as a book group pick: between issues of race, feminism, trans rights, creativity, family dynamics… there's a lot to talk about.
Being read to is such a lovely thing, whether it's a small act of care or a communal human experience. When I was writing The Secret of Happy Ever After, I did a little research into the Shared Reading project which encourages people to read aloud, and be read aloud to; volunteers go into prisons and care homes and schools, as well as leading leading wider community groups, and read stories and poems that help people build connections and share their emotions, while sharing their imaginations. It's such a great idea. When you think about it, human beings have been wired to hear stories and tell them since prehistoric times. The experience of reading aloud (I think, anyway) is a subtly different one to that of silently reading in your head.
I've listened to my audiobooks while dogwalking, ironing, cleaning, knitting, but I enjoyed them most when I was just… sitting.  I know that's a luxury not everyone's been able to enjoy, what with home schooling and working/from home and generally dealing with the WTF-itude of a global pandemic, so I do appreciate it. But that quiet time, in my own head but not attempting to rearrange the mental furniture while I was there, was more relaxing than hours of yoga. More relaxing even that sitting with the same book open on my lap.
And if you've got any audiobook recommendations, I would love to hear them!