Every country has its Easter treats. Americans have Peeps. Italians have pane di Pasqua. We have hot cross buns. As usual, Sweden blows all this out of the water with semlor: the insanely happy marriage of yeast, cream, spices and icing sugar.
I'd read about semlor buns (semla, semlor pl) in one of my favourite cook books, Scandalicious by Signe Johansen, (https://www.amazon.co.uk/Secrets-Scandinavian-Cooking-Scandilicious/dp/1444703927/ref=sr_1_2?s=books&ie=UTF8&qid=1461592948&sr=1-2&keywords=scandilicious) and was hoping that they'd still be available in Stockholm before I went back. They're sweet, cardamon-scented buns filled with almond paste mixed with milk and topped with cream, one of those time-limited seasonal treats that were traditionally eaten on Shrove Tuesday but now, much like hot cross buns, are available from Boxing Day until the end of Easter. Variations occur over Scandinavia – the Finns like them with jam inside, and Denmark and Iceland they're made with puff pastry. According to Wikipedia, "each Swede consumes on average five bakery-produced semlor each year, in addition to all those that are homemade" and I can totally see why: they're delicious. King Adolf Frederick ate himself to death in 1771 by finishing up a hearty meal with fourteen (14) semlor, in their traditional pudding form, served in a bowl of warm milk. I could see myself going much the same way, had I been in Stockholm longer than five days, frankly.
I asked my new Swedish bestseller friend, Katarina Bivald, where I might go in Stockholm to satisfy my semla curiosity, and she very, very kindly sent me a detailed reply, steering me to the fragrant arms of Vete Katten, a Stockholm cafe institution on Kungsgaten. Vete Katten means The Wheat Cat. I don't know why. Any Swedes out there who'd like to explain why cats are in charge of baking, please jump in.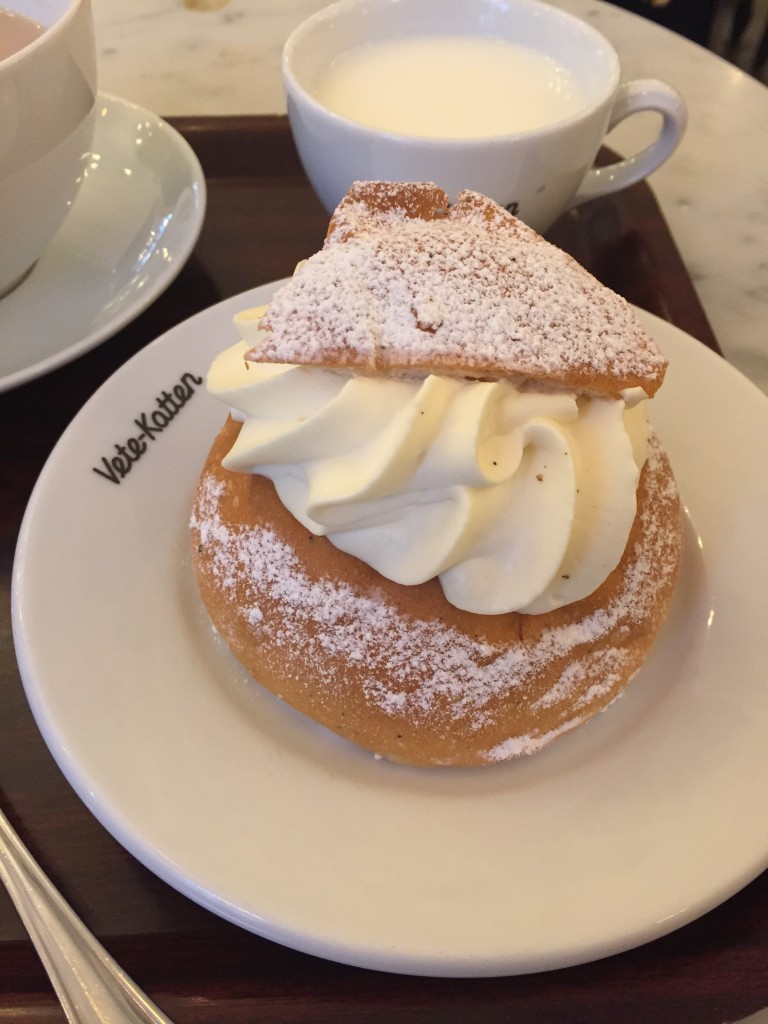 Would you look at that? It was as delicious as you're imagining – soft sweet bread, with a hidden well of smooth almond paste under that thick swirl of faintly vanilla'd cream. So good with a hot cup of tea to cut through it. What you can't see in that picture is the lady who commandeered the spare chair on my table and proceeded to give me daggers for half an hour. Maybe because I was drinking my tea with milk, or not drinking very strong Swedish coffee, or because she too has I'm Coming To Burn Down Your House Resting Face, I don't know.
(Imagine what the two of us must have looked like to passers-by, though. Two women apparently in the grip of a deadly argument over a large cream cake.)
Anyway, I had another semla the following day at the excellent Grillska Huset, round the corner from the Royal Palace on beautiful, timeless Gamla Stan: this cafe is a part of a charitable scheme run by Stockholm City, which funds social enterprises, encouraging people to get back into employment, and for young people to do vocational training and community work. It's also a fantastic place to eat and won best semla bun 2015 – I could not agree more. Apols that there is no photo of said semla bun: it was Just. Too. Tempting. To. Wait. I took the photo mainly to remind myself that this is exactly how I'd like my kitchen to look when I next move house. (Yes, including the chill cabinet of semlor, princess cakes and open sandwiches.)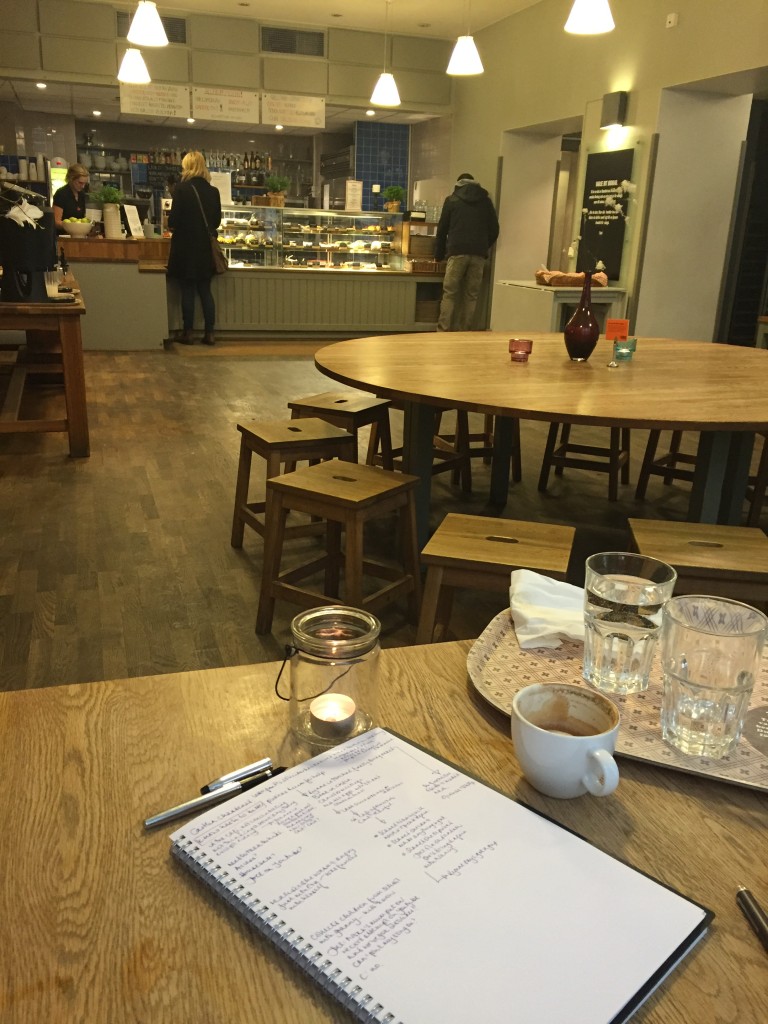 By way of contrast, this is what I knocked up to celebrate Easter back home in Herefordshire: Nigella's chocolate cloud cake. It looks a bit, er… shonky, but tasted great, even though I underestimated how many Mini Eggs I would need to give my imaginary Easter Bird a respectable clutch, so ended up supplementing with Creme Eggs – which gave the rather disturbing impression of an ostrich squatting in a thrush's nest. (Don't think about that too much.) Still, it gave rise to the fine English Easter tradition of Discussing How Much Smaller Creme Eggs Are These Days and also Cussing Cadbury's New American Overlords For Cutting the Number Of Mini Eggs in a Bag.
If, like me, you have a small warren full of Lindt easter bunnies which you bought sneakily at half price and now feel very guilty about hoarding, this is a very good way of using them up and sharing the calorific damage with your loved ones…